SAITO KNIVES' Authentic Japanese Knife Sharpening Service


SAITO KNIVES provides a very unique knife sharpening service locally between Brisbane to Ballina NSW or by mail Australia wide. Usually, sharpening work is performed with an electric grinding wheel that often take a chunk out of your knife and in worst case scenarios, overheats the blade.
At SAITO KNIVES, all knives are hand sharpened and edges mirror polished by Japanese knife specialist using 4~5 different whet stones.
By finishing with # 12,000 super fine polishing stone, edges become razor sharp and stay sharp for longer.
The next schedule for sharpening round for Gold Coast, Tweed and Northern Rivers will be set soon and will be updated here , FaceBook or Instagram page so please stay tuned!
Please contact us to book Masaaki's visits for pick up and delivery.
Contact: 0431428507

HOW DOES IT WORK?
Brisbane: Please contact us to check our available time for drop off and collection in Aspley.
Please note that as we spend 30 to 40 minutes per knife, we can't provide same day return.
Gold Coast, Tweed Coast and Northern Rivers up to Ballina
: We do runs approx. once a month basis with one Thursday pick up and the following Thursday delivery.
Proprietor and knife doctor Masaaki Saito will come to your house or business to collect and return.
Details for the round will be updated here, on our Instagram or Facebook posts.


Sending knives by mail: Please contact us first to check our schedule.


Experience The Difference
Five reasons to choose SAITO KNIVES's knife sharpening service.
All knives are hand sharpened to finish by Japanese knife expert using variety of whet stones.
We will find the best edge profile and outline for your knife so it cuts flawlessly.
Only 3 fixed prices by length for most knives.
Always premium service for your premium knives.
We love and care knives more than anyone.
Price
Blade length up to 10 cm - $20
Blade length up to 20cm - $30
Blade length 21 cm and over - $35
Hairdressers scissors $55
Free 5th knife sharpening ( The smallest item in a batch of 5 knives or more under 1 account is free. )
Free pick up and delivery in Gold Coast and Northern Rivers with courtesy knife provided upon request.
For outside of coverage area, additional shipping fee is calculated according to the weight and items are sent by Australia post signature on delivery.
Traditional single bevel Japanese knives and heavily damaged blade may incur extra charges depending on the condition.

*Please note that we do not handle outdoor knives, swords or anything that can be classified as weapons.
HOW TO SEND YOUR KNIFE BY MAIL
Please contact us first to check our schedule and price before you post your knives.
We will email you an invoice for direct bank deposit or online credit card/ PayPal payment option.
For customers who wish to use direct bank transfer, please type the invoice number for your reference.
POSTAL
SAITO KNIVES
PO Box 530
Aspley QLD 4034


There had been cases of knives coming out loose from boxes and bags.
For safety of postal staff and for your knife, please make sure that your knife is very securely packed in a box and the knife is not rattling inside.
SAITO KNIVES are not liable for any damage and loss of items or injury caused to other people during the transportation to us.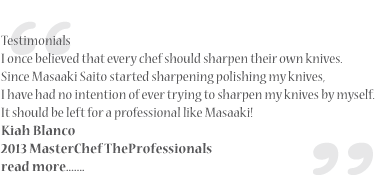 Repair works
1
This Masamoto paring knife was very rusty as well as being blunt.
I started sharpening with Sun Tiger #240 to make a tapered edge then moved up to King #1200, Shapton #5000. Before finishing, The blade was scrubbed with rust eraser to get rid of rust, then finished with Shapton #12000.
The polished blade is incredibly beautiful.
2
Oops! this chef knife was snapped from approx 1 / 4 from tip and the owner was about to throw it out. I ground off the back of the blade with Sun Tiger #120 to make it into Santoku shape then put a new edge with Sun Tiger #240 and moved up to King # 1200, Shapton #5000. then finished with Shapton #12000.
Now the knife started its new life as a Santoku.
3
This is another repair work of snapped tip but this wasn't too bad. I created the new outline with Shapton #120. The typical humped heel of German knife was removed too to make the rocking action easier. The new edge was created with Sun Tiger #240 and moved up to King #1200, Shapton #5000. then finished with Shapton #12000. Now the pointy tip is back again with a sharp and balanced edge.