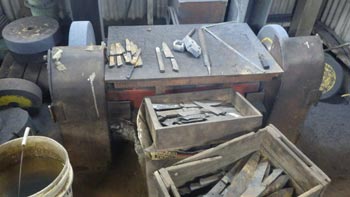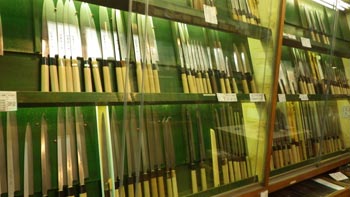 In my recent trip back to Japan, I visited some knife makers. As a knife geek, it is always great to catch up with the makers and see hundreds of knives.
In Japan, knife craftsmen are struggling to find heirs or successors and many decide to close the business when they retire. It is very sad but making knives using traditional methods is intense, time consuming and there are many mass-produced knives around for much cheeper price with great promotion strategies, it is kinda understandable too.
It seems that in the near future, all good old-fashioned Japanese knives will be the rarest to find. Good news is that there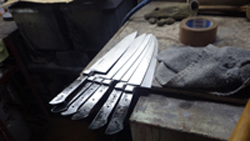 are a few young, yet skilled craftsmen polishing their techniques. I met a young blacksmith whose knives are listed as traditional crafts in the region. He showed me around his workroom and explained the 30 different steps involved. His knives are robust, rustic and feel totally different from mass-produced knives in hands. Luckily, he agreed to send some of his knives so they will be added to our line up soon. It was a tightly scheduled short trip but fun and very educational. Now I have many new samples to try so I have been cutting many ingredients meaninglessly.